Advisory Board Members
Jennifer French Parker
Jennifer Parker is the editor and publisher of CrossRoadsNews – East Metro Atlanta's award-winning community newspaper. Under her leadership, CrossRoadsNews has become the go-to-source for local news in DeKalb County. The newspaper is proudly "hyper local" and its readers credit it with helping build a sense of community with its thorough coverage of the social, economic, political and environmental issues facing the community. Before co-founding the newspaper with her husband Curtis in 1995, Jennifer was a reporter and assistant metro editor at the Atlanta Journal-Constitution; and a business writer with the Charlotte Observer in N.C., the Times Herald Record and Wall Street Transcript in New York. She also worked for the Daily Gleaner and the Jamaica Daily News in Kingston, Jamaica.
Under her direction, CrossRoads News has won numerous "Excellence in Journalism" awards from the Atlanta Association of Black Journalists, the National Newspaper Publishers "The Black Press" Association, and the Local Media Association which represents 2,000 community newspapers in the US and Canada. Jennifer has a Masters of Science degree in Journalism from the Columbia University School of Journalism in New York City, and a Bachelors of Arts from the University of the West Indies in Jamaica. She also completed graduate studies in international economics at Oxford University in England. She is a graduate of Leadership DeKalb and has served on numerous community boards, including the East Metro CID Board of Directors, The First Afrikan Community Development Corporation, the Saint Philip AME Church's CDC, the Metropolitan YMCA Board of Directors, and Local Media Association Board of Directors. Jennifer is a member of the Rotary Club of South DeKalb, and is a past president of the South DeKalb Business Association and the Friends of Wesley Chapel Library. Jennifer and Curtis live in Decatur, GA.
---
Rev. Dr. Mark A. Lomax
The Reverend Dr. Mark A. Lomax is the Founding Pastor of the First African Presbyterian Church of Lithonia, Georgia where he has served since 1993. The First Afrikan Church is an Africentric Christian Ministry that weds Black Liberation Theology to Afrikan-Centered philosophy. Afrikan American, Afri-Caribbean, and Afrikan histories, spiritualties, rituals, cultures and theologies are critically examined and where appropriate, integrated into the teaching, preaching, worshiping, and serving practices of the congregation. Christ is the Afrikan Messiah who is the incarnate Word of Oludumare or Nyame or Mawu Lisa – names for the High God in various West Afrikan cosmologies.
Dr. Lomax is also an associate professor of homiletics at the Interdenominational Theological Center (ITC) where he has served since 1998. His courses teach students to integrate the biblical narrative with the socio-historical and economic story and contemporary lived experiences of African Americans, while placing particular emphasis on historic Black belief and Black Liberation Theology.
Dr. Lomax is deeply involved in faith-based, community organizing. A servant of the Presbyterian Church as well as God's Church universal, Dr. Lomax is well known for his work attacking systemic and structural racism in church and society. As a member of the Presbyterian Church U.S.A.'s Special Committee on the Belhar Confession, Dr. Lomax helped to lead the denomination in incorporating the very first African confession into its constitution. The Belhar Confession calls the denomination to confess its sin of racism and to become advocates for unity, justice, and reconciliation.
Pastor Lomax is convinced that the healing of Afrikan peoples begins with a healthy self-love; that a healthy self-love emerges as Afrikan peoples critically investigate and understand our collective journey and learn to internalize and practice the best moral and spiritual principles that our ancestors vouchsafed to us. He is also convinced that Afrikan peoples will rise from the dust of oppression, exploitation, and self-destruction when they organize, use and invest their resources in Pan-Afrikan spiritual, economic, political, and cultural liberation.
Dr. Lomax travels the Afrikan world learning and teaching, is the father of three adult sons, a grandfather, and the husband of Rev. Lillie D. Shaw Lomax.
---
Board of Directors
Safir

Asante
Safir Asante is the Sr. Trustee and Vice President of Southeastern Trustees and Associates, an Estate and Business strategy firm. He was honored by the Congressional Black Caucus as " A Future Leader of Tomorrow" and Dr. Chike Akua has called him "A Financial and Business Expert for the Family".
On the surface D.J. is an extremely accomplished Accountant, Adviser, Actuary and Financial Analyst with over 20 years' experience in Business, Real-estate, Taxes, and the financial markets. He has directly managed millions of dollars in client and community assets. He is known for getting "in the trenches" to protect and build assets and his personal mantra is "Experience is the Best Teacher" and "Helping others is the Key". As such, he has produced healthy, enduring results for his clients, which include, financial service companies, hospitals and non-profits; Government Entities and Politicians; and multinational corporations. But more than an adviser, Mr. Asante is a deeply spiritual person proud of his Mississippi and Afrikan American Heritage. He has been in Ministry for over 25 years and has a down to Earth personality and humor. He is known for his comical greetings and making it "DO WHAT IT DO" personality. His opinion is highly sought after; and is respected and trusted in his community.
---
Rev. Kristen. J. R. Berry
Rev. Kristen Berry is an alumnus of Johnson C. Smith University in Charlotte, NC. She also holds a Master of Arts degree in Human Communications Studies from Howard University in Washington, D.C. She holds a Master of Divinity degree at Interdenominational Theological Center in Atlanta. She is a communications professor at Point University. In 2005, she started her own business, Berry Communications Consulting Services, which trains and assists clients with improving communications and speech skills.
​Kristen is the Director of Communications at Shaw Temple Church and Chair of the Strategic Planning Committee of the Atlanta District of the AME Zion Church.
Rev. Berry has published articles regarding African American preaching, effective communication and women in ministry. Berry published a workbook entitled Crisis in the Kingdom: Creating a Church Crisis Communication Plan and is a proud member of Delta Sigma Theta Sorority.


---
David E. Glenn, Sr.
Currently employed by the St. Louis Public School District and serves as the Chief Investigator for the Human Resources Division in the Employee Relations Unit.
In 1981 David enlisted in the United States Marine Corps in 1981, served 4 years of active duty. Upon his Honorable discharge from the Marine Corps and return to St. Louis, Missouri. In 1985, David began a second career of service to the City of St. Louis and joined the St. Louis Metropolitan Police Department. In 1986, he was commissioned by the State of Missouri as a Police Officer, graduating from the St. Louis Metropolitan Police Academy where he served the City of St. Louis honorably for 25 years until his retirement in 2010. David Continued to serve his country by enlisting in the United States Marine Corps Reserve in 1985, where he was promoted to the rank of GySgt E-7 (Gunnery Sergeant) and was honorably discharged in 1994.
David's thirst for excellence drove him to equip himself to be the best police officer possible. In that quest, he sought out both academic and assignment opportunities to enhance his value to the St. Louis Police Department. David graduated from Fontbonne University with a Bachelor Degree in "Organizational Studies" and a Master's Degree in "Management"
In 2007, he graduated from the FBI National Academy in Quantico, VA during its 228th Session.
David's assignments included: Patrolmen in Community Policing, Detective Juvenile Division; Sgt. Community Policing Management Training Program; Sgt. Planning and Development; Det. Sgt. Bureau of Investigation -Juvenile Division; Negotiator Hostage Response Unit, Investigator with the Greater St. Louis Major Case Squad, Detective Sergeant Juvenile Division, and Detective Sergeant Central Patrol Division Special Operations Unit.
While working as a Juvenile Detective, David affirmed his commitment to helping the youth by providing them with positive alternatives to what could be troubled lifestyles. To demonstrate his commitment, he volunteered as a Life Skills Coach of The First Tee of St. Louis; and the St. Louis Police Athletic League" and the Hook A Kid On Golf Organization.
---
Rev. Victoria Ferguson-Young
​Rev. Victoria Ferguson-Young is the Project Coordinator for The DeKalb County Ending Abuse in Later Life Project. As coordinator, she is responsible for managing the tasks of the project to make the DeKalb County system more accessible to senior victims of domestic violence while improving the services provided to seniors by law enforcement, victim services provides, and the legal/criminal justice system. Victoria has worked in the field of ending domestic violence for 10 years. Previously, she has worked for The Women's Resource Center as a chaplain and women's advocate, The Fulton County Solicitor General's Office as the Family Violence Counselor and Victim Advocate, and DeKalb County Magistrate Court as a Compliance Officer monitoring respondents of temporary protective orders.
Additionally, Victoria created the The Kindred Moxie Network to equip faith leaders and faith communities to effectively address and prevent domestic violence, intimate partner violence, and violence against women. In 2013, she began contracting with Men Stopping Violence to co-facilitate trainings and activities for their domestic violence prevention "Because We Have Daughters" Program. She has also contracted with the Georgia Coalition Against Domestic Violence to co-facilitate with their community education events and trainings. Victoria serves on the ministers' council at First African Presbyterian Church in Lithonia, Georgia. She earned her B.A. from Howard University and a M.Div. from the Interdenominational Theological Center. Victoria is an active member of the Nu Lambda Omega Chapter of Alpha Kappa Alpha Sorority, Inc., the Atlanta Chapter of Jack and Jill of America, Inc., and the LEAD Atlanta Alumni Association. Victoria and husband Roberto are parents to 3-year-old, Roberto, Jr.
---
Belinda Lee, MS, LAPC, NCC
Belinda Lee earned her MS in Clinical Mental Health Counseling from Mercer University. She is a psychotherapist who holds a BA in Psychology from Rutgers University. Belinda sees her role as a clinician as being a catalyst for change. She utilizes a person-centered approach to help
individuals meet their goals for healing and growth. Belinda's roles in life have included being an elementary and middle school educator, caregiver, spouse, parent of adult children, and most recently grandparent. She is experienced both personally and professionally in the dynamics of the ever evolving family system. Belinda skillfully combines an integration of therapeutic techniques to foster a safe, non-judgmental counseling environment where clients are able to do their internal work. Belinda specializes in working with adults, older adults, and
couples dealing with: Transitions, Work Stress, Life/Work Balance, Multicultural Women's Challenges, Single Living, Anxiety, Depression, Relationship Obstacles, Grief and Loss , Self-Regulation, and Spirituality. She enjoys working with individuals and is also experienced in facilitating group therapy. She enjoys supporting group members as they find their voice, give and receive support, and learn to relate to others and self in ever expanding ways.
---
Djuana Herron
Djuana Herron is a Business Manager and procurement professional working with the City of Atlanta, Department of Procurement ensuring that the day-to-day operation of the department is managed properly. She is a problem solver with more than 14 years of public sector experience and 16 years of private sector experience in local government, banking and retail.
Ms. Herron is an accomplished purchasing professional with various national designations, including Certified Public Purchasing Officer (CPPO); Certified Professional Public Buyer (CPPB); Certified Purchasing Professional (CPP) and Certified Professional Purchasing Manager (CPPM). She is a member of the National Institute of Governmental Purchasing, the Georgia Chapter of the National Institute of Governmental Purchasing and the American Purchasing Society.
She holds a Bachelor of Arts degree in Economics from Spelman College. She is an active alumna participating in many volunteer activities. She is also an active member of New Life Church in Decatur, Georgia.
---
Staff Members
Rev. Kristen. J. R. Berry - Director of Communications
Rev. Kristen Berry is an alumnus of Johnson C. Smith University in Charlotte, NC. She also holds a Master of Arts degree in Human Communications Studies from Howard University in Washington, D.C. She holds a Master of Divinity degree at Interdenominational Theological Center in Atlanta. She is a communications professor at Point University. In 2005, she started her own business, Berry Communications Consulting Services, which trains and assists clients with improving communications and speech skills.
​Kristen is the Director of Communications at Shaw Temple Church and Chair of the Strategic Planning Committee of the Atlanta District of the AME Zion Church.
Rev. Berry has published articles regarding African American preaching, effective communication and women in ministry. Berry published a workbook entitled
Crisis in the Kingdom: Creating a Church Crisis Communication Plan
and is a proud member of Delta Sigma Theta Sorority.
www.berrycommunications.org
---
Tevin Goss - Associate Producer
Tevin Goss is an Illustrator at Savannah College of Art and Design. His work is a collective variety of pieces that range from character developments to wardrobe design. The work that he has done has been for experimental purposes in technique and craftsmanship. The work that he creates has always had a nostalgic element imbedded in it. The reason being is that he has had a lengthy fascination with different elements and aspects of the past. He loves to analyze how certain aspects of history still have a general influence today. One of his favorite focuses has been on wardrobe and clothing of different eras and decades. He loves to do research on different historical periods of dress and he incorporates these nostalgic fashion elements into his work. His goal is to continue doing this work in design opportunities in the future.
​Tevin Goss is a Henry W. Grady graduate. He started at SCAD in 2014, where he has been an active member in the Marksmen Illustration Club as well as becoming secretary for the club. He has also created an organization revolving around his personal interest in costumes and production design. Tevin has also done an internship/foreshadowing assignment with a costume/production designer team for a stage production at Theatrical Outlet theatre. Tevin hopes to one day be able to become a costume designer within the film and theatre industry. He is currently finishing his degree in illustration at SCAD before pursing further training and learning endeavors in the costume field.
---
Joy Rankin - Researcher, Producer
​A progressive thinker, Joy L. Rankin will engage her long history of library research and
function as a Researcher and Producer for Beneath the Surface with Lillie Shaw. Joy has emerged as a forerunner and proven leader in libraries, museums and academia. Her knack for advocacy and uncovering creative solutions to tough problems has been evident in her work through the years. Ms. Rankin has developed programs, courses, workshops, symposiums and literary performances that have enriched the library experience and positively impacted the patrons, staff and community. On the administrative front, Ms. Rankin has been a Director and served on committees specializing in branding, technology, diverse programming, funding advocacy and advisory (community) outreach for both Suffolk and Nassau Library Systems in New York. Additionally, Ms. Rankin has worked as an adjunct professor, museum educator, public speaker and a reporter for a national publication. Ms. Rankin brings purpose, passion and a proven track record of excellence to museums and the library sciences. Among her many accomplishments, Joy has worked as a Beauty, Health, and Fashion Reporter for Essence Magazine, and as a Project Facilitator for The Brooklyn Children's Museum. She is the the recipient of the Smithsonian Museum Leadership Award. She has also made notable contributions with The Children's Hope International Coalition in Los Angeles, The Sadie Peterson Delaney African Roots Library, the Literacy-Research Advisory Committee as the Lead Library Developer, and she is the 2013 Woman of the Year recipient fromThe National Association of Professional Women.
---
Rev. Lillie Shaw, Executive Producer, Host, and Show Developer
Reverend Lillie Shaw Lomax is the Host of Beneath the Surface with Lillie Shaw. The show is a product of Grace and Mercy Shaw Productions in association with the First Afrikan Community Development Corporation. Prior to her career in Chaplain ministry, she was immersed in Television and Radio News for more than 30 years. Beneath the Surface with Lillie Shaw now allows her to connect both her Ministry and Media expertise to bring listeners and viewers a religio-social-justice, investigative, educational, and political program that seeks to uplift, educate and transform those who are uninformed or misinformed about topics that are at the core of their daily lives and critical to their empowerment in addressing the issues that impact them most. By the late 1980's she was covering news in the nation's capital as a Reporter and Talk Show Host for WKYS Radio and she worked as a Writer for WTOP Radio in D.C., covering award - nominated stories about the grave racial injustices of the United States incarceration system and the corrupt nature of the deaths of Black men alleged to have engaged in so - called "suicide hangings." Lillie's investigative reporting revealed that hundreds died at the hands of law officials, particularly in the South. She went on to become a reporter at WBAL television in Baltimore, MD. She was a Reporter and Community Affairs Talk Show Host for WJZ - TV and Talk Show Host at the WB and the CW Network in the nation's capital. Lillie Shaw Lomax has always regarded media and communications as a ministerial journey, which allows her to cast much needed light on the religio - social - justice needs of the voiceless and marginalized. Throughout her career, Lillie has held memorable conversations on film with Betty Shabazz, Myrlie Evers, Bebe Moore Campbell, Colin Powell, Congressman John Lewis, Former Vice President Al Gore, Oprah Winfrey, Author Walter Mosley, Poet Nikki Giovanni, Yolanda King, Randall Robison, C.T. Vivian, Andrew Young, Susan Taylor, Lonnie King, Deborah Prothro - Stith, Barbara King, Jazz Greats: Wynton and Branford Marsalis, Pianist: Ramsey Lewis, Jesse Jackson, Sister Souljah, Great Tenor and Opera Singer, Placido Domingo, and the list goes on.
---
Powered by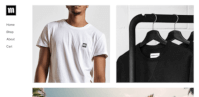 Create your own unique website with customizable templates.